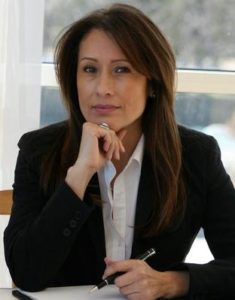 (Kenosha, WI)Volunteers for Nehlen announced today that Maria Espinoza, well-known victims advocate and an activist on border security issues has offered her personal endorsement of Paul Nehlen in his effort to unseat Paul Ryan in the primary race unfolding in Wisconsin's 1st Congressional District.
Espinoza was a 2016 Primary GOP Candidate for U.S. Congress in Houston, Texas, CD-7. Since 2009, however, she has served as national director for the Remembrance Project, bringing attention to the plight of those whose loved ones have been killed by illegal aliens. Ms. Espinoza is a strong proponent of securing U.S. borders and upholding current laws in order better to protect America's constitutional republic and its citizens.
Espinoza noted her conviction that Nehlen would put Americans first, stand for strong borders, fight for a strong military, work in the interests of a stronger economy, and respect the rule of law. She also noted the important role of WI-1 voters in a race with national implications.
When Wisconsin GOP voters go to the polls on August 9, 2016, to choose their next CD-1 GOP House candidate, their votes will prove to be a pivotal moment in the nation's fight toward restored freedom, Espinoza stated. It is time to restore the will of the people, and Paul Nehlen has promised to be that advocate.
Responding to the endorsement, Nehlen said I'm so grateful to have the endorsement of someone with the unflagging courage to engage in the many ways that Maria Espinoza has and does. She stands in the public sphere on a daily basis to do battle for the American people for their rights and their voice. I am pleased to fight alongside her on border security and other issues that matter profoundly to the future and security of our nation and its citizens.
Espinoza's endorsement statement cited numerous issues-based reasons for her support of Nehlen's campaign and why she believes Paul Ryan must be defeated, including border security, spending, value for human life, and trade. Excerpts follow below:
Border Security Is Paramount (excerpt): [Paul Ryan] champions the same failed policies that have led us to this dangerous precipice, where unidentified illegal aliens are crossing unabated into our communities, causing enormous losses of American lives and our Constitutionally guaranteed freedoms.
2016 Omnibus (excerpt): Speaker Ryan has continued a Pelosi/Boehner style of national budget policies that will further plunge America and future generations into poverty, insecurity, joblessness and into a 3rd world existence. His now infamous 2016 Omnibus budget is but one example of Ryan's disrespect for our Constitutional process and citizen taxpayers, funding Obama's illegal amnesty plan, Muslim refugee resettlement, and many other costly social programs.
Trans-Pacific Partnership (excerpt): On the matter of ill-fated free-trade agreements, Ryan has been equally deaf to the voice of the majority of Americans, millions of whom have lost jobs to outsourcing. Why has Ryan chosen to side, not with American workers, but with big corporations instead?The TPP must be stopped. Ryan must be stopped. And only the WI CD-1 voters can make this happen.
###